Former U.S. Senator Arlen Specter couldn't beat cancer the third time around. He passed earlier today at age 82. One of the last moderates serving in Washington he was challenged by Tea Party favorite Pat Toomey until it forced him to switch parties in an effort to retain his seat in 2010. He wound up losing that primary to Congressman Joe Sestak.
The Senator began his career as Philadelphia District Attorney as a Democrat before switching parties and serving for thirty years as a Republican Senator.
I disagreed with many of his votes, particularly Supreme Court Justices (among his legacies are Scalia, Thomas, et al). After he returned to the Democratic Party the State Committee meeting in Pittsburgh was, essentially, a welcoming back celebration. He posed with his wife Joan in the donkey tie given him by then Gov. Ed Rendell: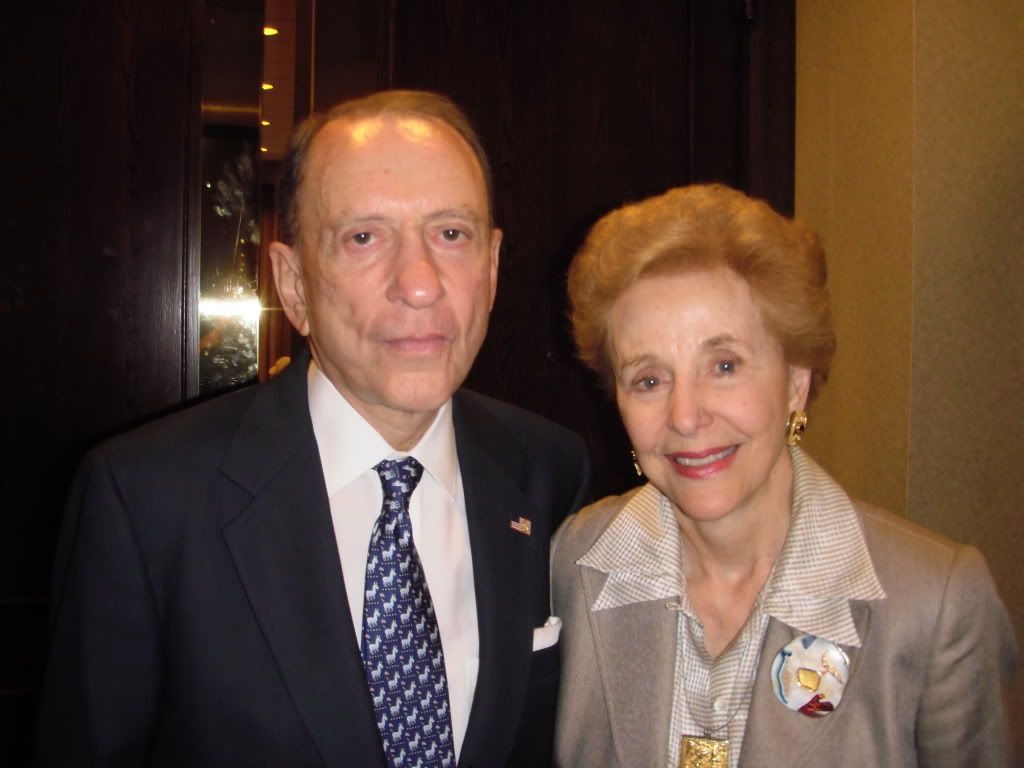 The Friday evening of that State Committee meeting I was at the hotel reception taking pictures and getting stories when Brad Koplinski, the Senator's campaign political director, saw me and offered to introduce me to the Senator. Now recall that I hadn't been particularly kind to the Senator over years of blogging so I winced at the coming onslaught of criticism (an occupational hazard when you write about politically powerful people) from the Senator. Instead he was polite and gracious. Not all politicians are when face to face with a blogger for whom they've been a regular target. That's my lasting impression of Sen. Specter: above all he was a gentleman.
The President released this statement this afternoon:

Arlen Specter was always a fighter. From his days stamping out corruption as a prosecutor in Philadelphia to his three decades of service in the Senate, Arlen was fiercely independent – never putting party or ideology ahead of the people he was chosen to serve. He brought that same toughness and determination to his personal struggles, using his own story to inspire others. When he announced that his cancer had returned in 2005, Arlen said, "I have beaten a brain tumor, bypass heart surgery and many tough political opponents and I'm going to beat this, too." Arlen fought that battle for seven more years with the same resolve he used to fight for stem-cell research funding, veterans health, and countless other issues that will continue to change lives for years to come. Michelle and I send our thoughts and prayers to Joan and the rest of the Specter family.