Howie Klein's Blue America PAC (he's the treasurer there) is targeting Congressman Tim Holden for his votes supporting fracking. Klein, originally from Monroe County, follows Pennsylvania politics closely and Blue America has targeted Tim Holden's conservative, anti-progressive votes this year because of a major challenger. Matt Cartwright, a Scranton W-B attorney, is mounting a serious race against Holden and basing some of it on Holden's support for the Bush-Cheney Energy Task Force which gave legal protection to energy companies drilling for natural gas in Pennsylvania.
Billboards paid for by Blue America went up in northeastern PA, Holden's new District: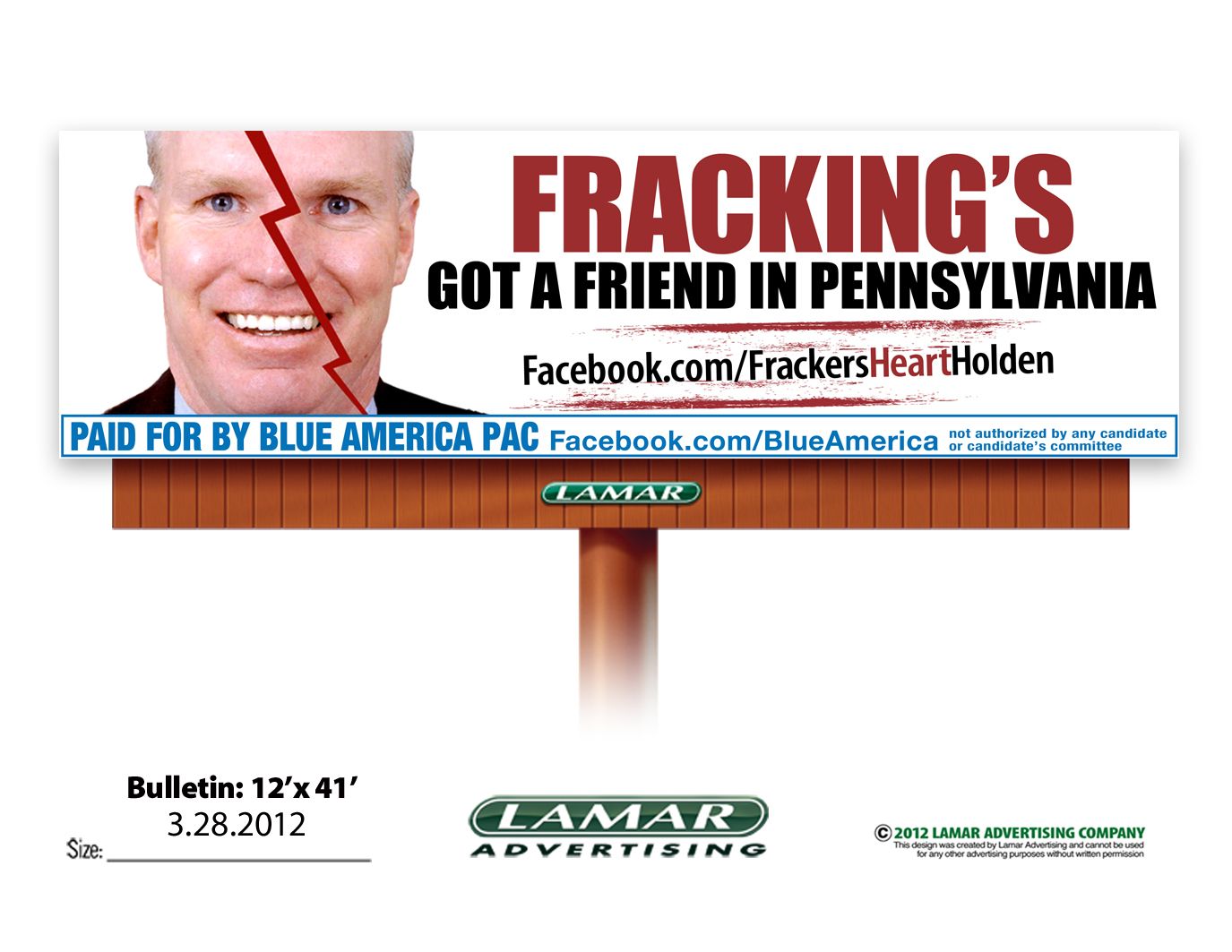 Holden, in his personally acerbic manner, issued a press release calling Blue America a Super PAC. It isn't. Holden's quote: "I'm being attacked "from the left by a Hollywood record company executive with Blue America PAC."
Blue America has been around much longer than Citizens United allowed Super PACs and is a progressive, grassroots, netroots oriented effort. Klein is the former president of Reprise Records. The 19 year incumbent Congressman can't seem to keep his facts straight but that's nothing new. He explained his vote against Obamacare by citing non existent cuts to Medicare.
Klein responded on his blog Down With Tyranny!

I retired from my job at Warner Bros almost a decade ago and work full time running by blog, DownWithTyranny, exposing corrupt politicians on both sides of the aisle, like Holden. But, for Holden's sake, I'll give a brief run-down of my experience as "a Hollywood record company executive." I started a small, independent label called 415 in San Francisco in 1978, on of the country's first "alternative rock" labels.
Howie cites many Pennsylvania bands and musicians he helped over the years, the many contributions of music to American culture, and how some of his friends moved tot he Poconos because they followed his love for the region.
Tim Holden has really stepped in it this time. Howie has the ability to reach out to countless rock musicians who can contribute to Blue America and educate the new constituents there as to Holden's real record. That's what Tim is really afraid of: voters finding out he isn't a real Democrat.