Mitt Romney left hundreds of his supporters waiting in the heat at a Quakertown Wawa today as he went elsewhere to avoid about 100 Democrats who also showed up. Ed Rendell headlined a counter Democratic event beforehand and could now write a book about the wuss Romney. Ironically a Republican walked over to the Dem event with a sign calling the former Governor "a big, fat wuss." It didn't faze the Governor nor any of the other Democratic leaders there to speak about the Romney record. I did notice the man, along with an apparently drunken guy with a Santa hat on, leave as Rendell recited actual facts about tax cuts and jobs. It was as if they couldn't absorb actual facts.
Congressional candidate Kathryn Boockvar, Auditor General candidate Eugene DePasquale, Treasurer Rob McCord and former Congressman Patrick Murphy spoke. A local teacher also spoke about cuts to education. I interviewed both Boockvar and Murphy following the event.
The Wawa convenience store by the Turnpike entrance was host to hundreds as folks began descending on it around 10 AM. When I arrived at 10:40 I secured one of the last open parking spaces and the managers inside were surprised to discover they would be hosting dueling events. A bit overwhelmed the asked the Dems to move next door to an empty produce stand. As I covered that I could see more and more conservatives packing into the Wawa lot. A man with a large Romney sign put flags on his truck and drove around the parking lot. State Police showed up, I believe at the store's request and blocked off the entrances.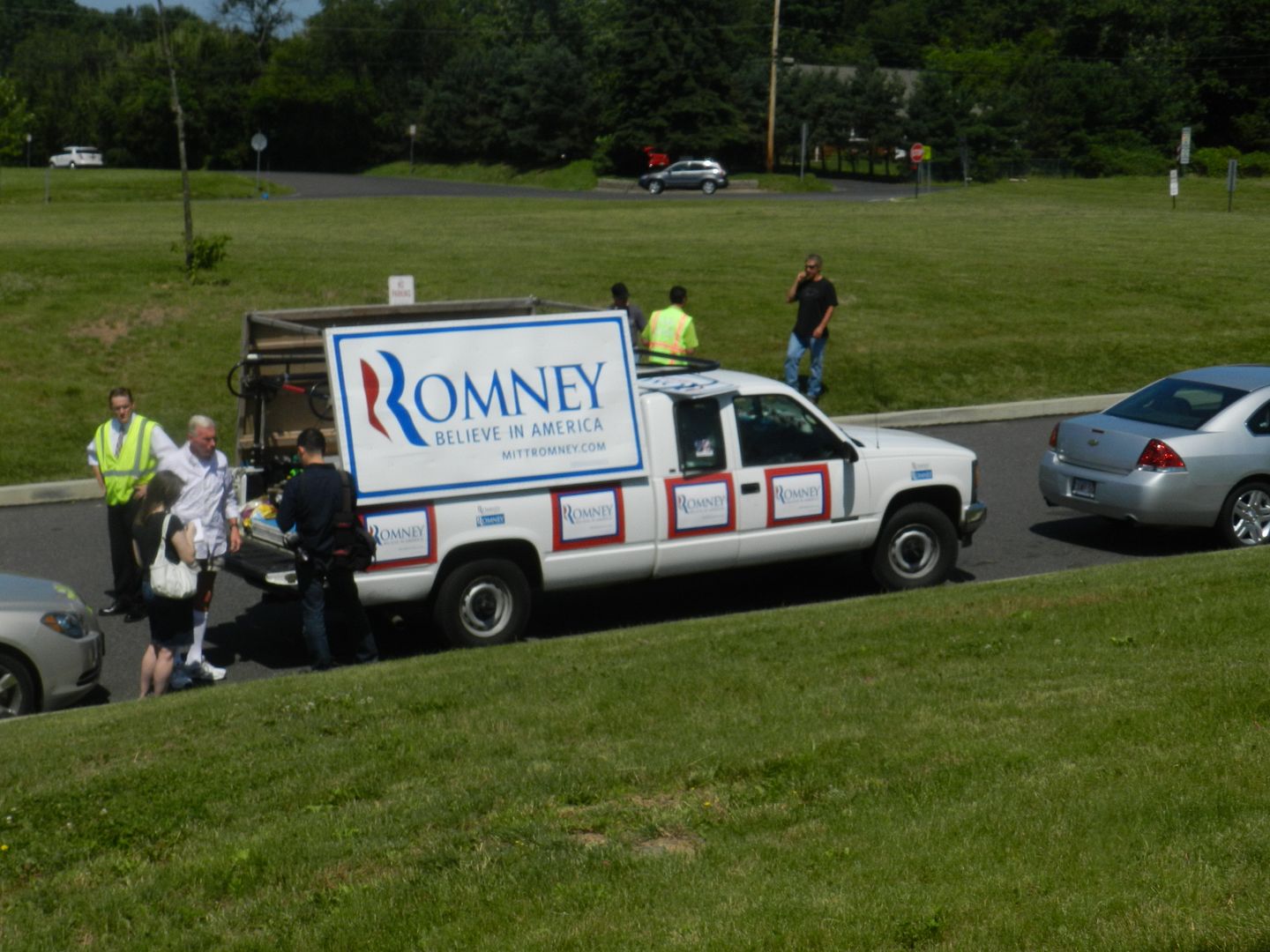 Word spread through the press early that the Romney bus would bypass this venue and go elsewhere because of the Democratic turnout. About 100 protesters were there to "greet" the presumptive GOP nominee. While the Dems had no issue with the Republicans who crashed and tried to disrupt their event Mitt obviously was so intimidated he went to another Wawa in Quakertown. As I watched all the TV crews leave I mentioned to some in the crowd that their guy wasn't coming. When they doubted me I pointed out that all of the television trucks had gone. They were still standing in the heat, an hour after the event was scheduled, waiting for the bus. The Romney bus ran over its own supporters today because he couldn't stand up to a little dissent. How will he stand up to President Putin?
More pictures and interviews are below if you click on "there's more."
Bill Brosius and Det Ansinn, both from Bucks County:
Kathy Boockvar:
Patrick Murphy:
Pictures: The hillside you see by the Wawa was completely filled with people awaiting a Romney bus which never arrived.