The Humane Society is attempting to pass legislation in Harrisburg which would finally end inhumane pigeon shoots in Pennsylvania. This practice is barbaric and involves releasing caged pigeons onto the ground where "sportsmen" proceed to unload their shotguns at them. Many of the birds are simply winged and hobble around tortured. There is nothing sporting about the events and thus they have been outlawed in most surrounding states. In fact the only remaining shoots are here in Berks County where I reside.
Wing Pointe outside Fleetwood has been host to most of the recent pigeon shoots. The facility is on Route 662 and recently a video emerged showing a County Judge shooting birds under an unfurled Confederate flag.
Last evening the PAC hosted an event in Leesport featuring two State House candidates they are supporting. David Kessler is running in the 130th, a District he represented for four years. The incumbent Rep. David Maloney is a Tea Bag Republican with extreme views, even on issues of animal cruelty. Kessler helped pass a puppy mill bill when he was in Harrisburg.
Fred Sheeler is running in the realigned 5th District which was moved here from the Pittsburgh area in legislative reapportionment. He is currently Berks County Recorder of Deeds and cleaned up an office which was a mess following his predecessor's conviction for embezzelement. His opponent is former Berks County Sheriff (disgraced former Sheriff) Barry Jozwiak, an extreme gun nut.
Hosted by Karel Minor in his capacity as a private citizen and former State Senator Roy Afflerbach the event attracted a nice crowd to The Hitching Post outside Leesport. Funds raised will go towards electing the two candidates and tipping the balance in Harrisburg towards those who oppose animal cruelty. One would think animal cruelty wouldn't be a partisan issue, that it would be something every compassionate person would support but that is not the case. Too many legislators oppose animal cruelty bills.
Right here in Berks County the Democratic District Attorney refuses to bring animal cruelty charges for pigeon shoots. Perhaps the fact a local Judge participates is clouding his judgment. In any event it is shameful chapter in Berks County history that it is the last bastion for these barbaric shoots.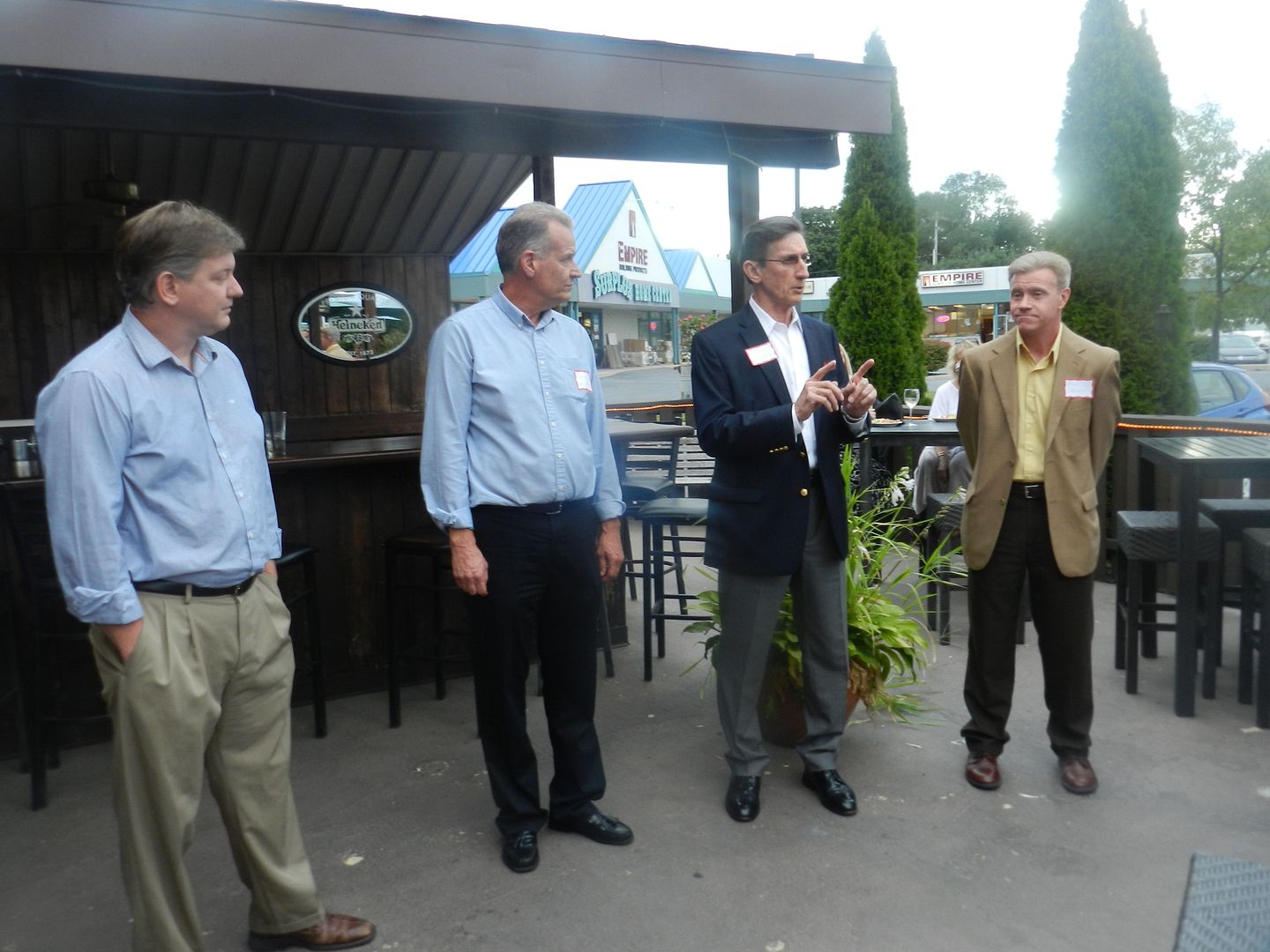 Left to right: Karel Minor, Roy Afflerbach, David Kessler, Fred Sheeler