Hundreds of Pennsylvanians rallied in the Capitol Rotunda today in support of women's rights. Estimates of 500 emphasized the largest crowd I've seen at an event in Harrisburg. We've Had Enough was organized against Senate Bill 732 which would impose onerous and unnecessary standards for abortion facilities. The effect would be the closing of many women's clinics and a shrp increase in costs of abortion services.
Conservative anti-choice legislators saw the horrors of the Gosnell Clinic as a vehicle to severely restrict women's rights. SB 732 imposes regulations which require women's clinics to adhere tot he same standards as ambulatory surgical clinics, places you go for knee, gall bladder, tonsils and other same day operations. Having knee surgery isn't the same as having an abortion and abortion clinics which perform procedures one day a week don't need full time RN's on staff. They also don't need elevators and 400 square foot operating rooms.
SB 732 is designed to make it so expensive for women's clinics to comply that they'll go out of business. When Texas imposed similar regulations the massive state lost all but two of its clinics. Imagine just two abortion clinics for a state the size of Texas? Pennsylvania would be no better. The only places eligible to perform abortions would be major urban hospitals.
As Ellie Smeal said today this is class warfare because only wealthy women would be able to afford to have abortions. The poor, many of whom depend on facilities such as Planned Parenthood (I'm a Board member by way of disclosure) not just for abortion services but for their obgyn needs and cancer screenings.
The rally was kicked off by Dr. Parker, an abortion provider, speaking about the health and safety of clinics in Pennsylvania. Admitting the Gosnell Clinic was a horror he said that's no excuse to shut down all the clinics in the Commonwealth. The Gosnell situation was a failure of the state health department to inspect and uphold current standards. It was the exception for which every other women's clinic is now being punished. Dr. Parker said "we will allow the actions of one rogue doctor to jeopardize the health of women in Pennsylvania." He also said if abortions become dangerous in PA it will be because of SB 732. A return to back alley abortions will actually kill women and mothers.
A woman who moved here from Minnesota told her personal story. Sarah Trombler-Gimple told how she got an unplanned pregnancy and made the decision to opt for an abortion. She mentioned the great care she received at the Allentown Women's Center and said "I never questioned the quality of my care because of the size of the room I was in." She reminded the crowd that "Never again" means never going back to back alley abortionists. That is the situation SB 732 would create meaning clinics like Gosnell's would become the norm rather than the exception.
Rev. Dr. Beverly Dale rocked the crowd with an inspiring speech about faith and reproductive rights and called the war on women a class war. She said "abortion is sometimes a necessary moral choice." La Tasha Mayes of New Voices Women of Color spoke to the need for women's health services in her community. Minority women especially will be impacted by SB 732 because of their lack of health care coverage. They disproportionately represent those who receive services at our Planned Parenthood clinics and depend upon us for the reproductive health care. The loss of women's clinics also means lack of access to birth control, diagnostics, cancer screenings and routine ob gyn exams.
Ellie Smeal recognized Kate Michelman who was also in attendance and reminded us that Pennsylvania has produced national leaders for women's rights. Instead of creating jobs and working to revive Pennsylvania's economy conservatives launched a war on women. They want not only to eliminate access to abortion but also to birth control: "this is class warfare on middle and lower class women. They have thrown down the gauntlet and we won't forget who was with us and who was against us." Smeal said we should be opening additional clinics instead of closing them. There are areas of our state without women's clinics and many women must drive distances to access services.
Many State Reps and Senators also attended the rally to show their support. Josh Shapiro took a great photo of the crowd:
Here are pictures I took of the event: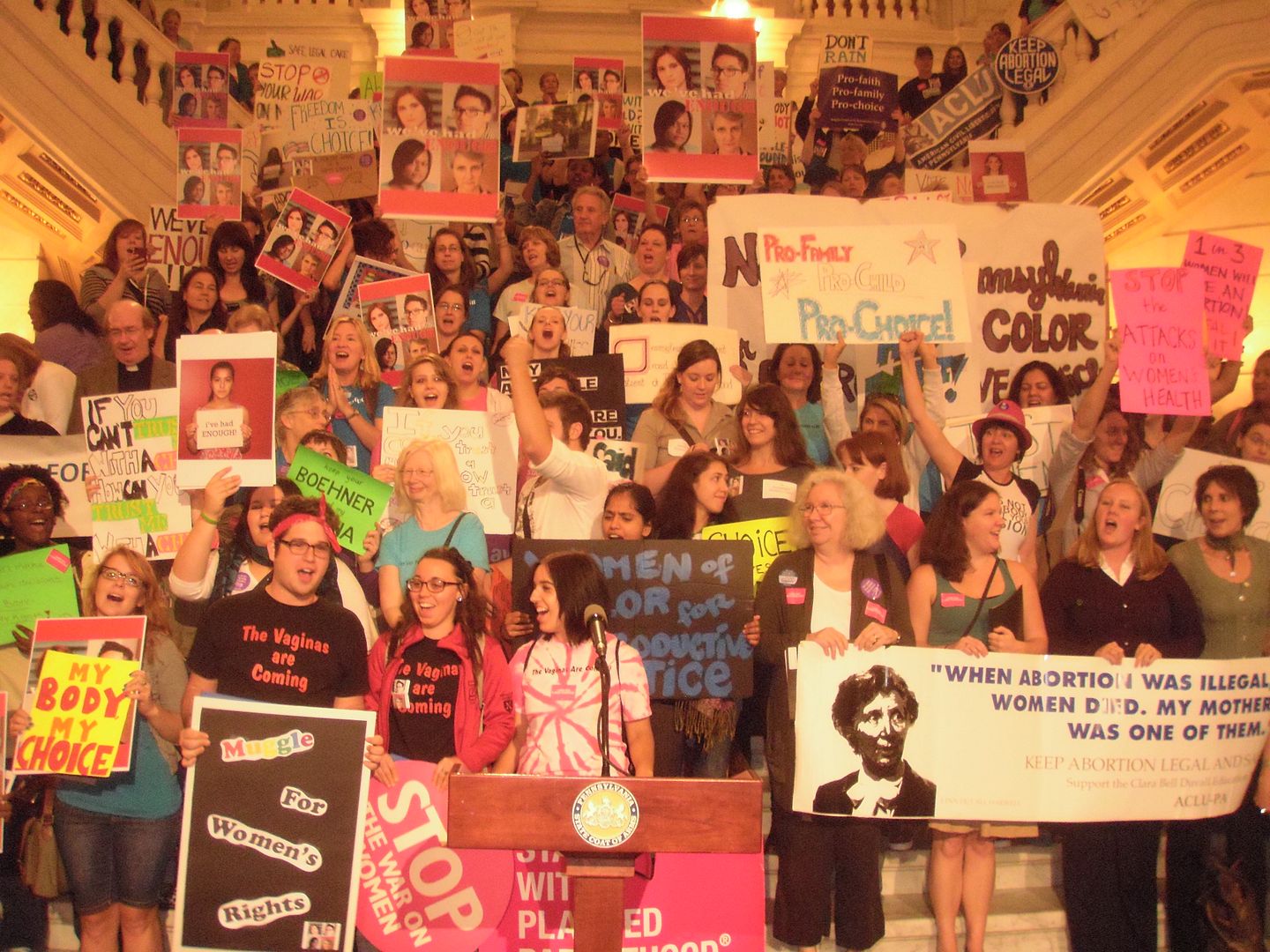 Dr. Parker:
Sarah Tromble-Gimple:
Ellie Smeal:
As if all this weren't enough )had you really had enough?) word just came in from Cecile Richards of yet another attack on Planned Parenthood today. Rep. Cliff Stearns (R-FL) is demanding documents from every single Planned Parenthood facility for his Congressional oversight committee. Richards' email:

But you know as well as I do that this isn't about fiscal responsibility. This is about harassment and intimidation of America's leading provider and advocate of women's health care. This is about an effort to undercut Planned Parenthood and undermine Planned Parenthood health centers' ability to provide essential care to the women, men, and teens who rely on them. This is about a pattern of politically motivated attacks designed to eliminate Planned Parenthood once and for all.
Have you had enough? One way to fight back is to contribute to what we do and support our efforts to fight for you.
I was commiserating this afternoon with others on the front lines fighting our progressive battles. Sometimes I feel we're fighting a losing battle, that we're losing ground to the forces of evil. It gets one burned out at times and rallies like today's remind me of why we fight and for whome we're fighting. As I look up at all the faces of all the women, men, children and others who turn out at these events I am reminded it is for them that I, and we, fight these battles. It reminds me we can never let them get us down, defeat us or get us burned out. This is class war and if we let up they win.