I spent Thursday in Harrisburg for the Pennsylvania Budget and Policy Center's annual State Budget Summit. This is the fifth such year I attended and learned quite a lot about our budget priorities. That's what a budget is: the priorities we make as a Commonwealth and it says much about who we are as a people. Where we allocate our resources and how illustrates where our priorities lie. Gov. Tom Corbett's lie with corporations, prisons and the privatizers of public services.
Mike Wood:


Sharon Ward opened the day then Michael Wood, Director of Research led a discussion and PowerPoint of this year's state budget. Much of the day surrounded discussion of Medicaid expansion. The Affordable Care Act goes into effect next year and Medicaid expansion has been controversial. The U.S. Supreme Court ruled that individual states can decide whether or not to opt into the program. Many Republican Governors have already opted out though some are reconsidering those decisions (Rick Scott in Florida for example).
Medicaid expansion would cover 500,000 additional Pennsylvanians. A healthy workforce is a productive workforce and since federal dollars would cover all the costs the first few years there is no downside for Pennsylvania. Even when state monies are required the economy should be recovered sufficiently and some smarter decisions concerning corporate loopholes can cover those costs. Since state residents will still be paying federal taxes why should we go without Medicaid coverage while paying for it in other states?
When you drop your child off at day care do you wish your kid's caretaker was healthy? How about the barrista who makes your morning coffee, your doughnut or your lunch? The flu shot through Pennsylvania this winter partly because workers don't have health care coverage or sick days. When they got ill they still had to go to work while they couldn't go see a doctor. How screwed up is that and how much did it cost us in lost productivity?
Three state legislators did a panel on state government with former Rep. Kathy Manderino moderating. Sen. Jay Costa, Republican Rep. Todd Stephens and Rep. Mike Sturla covered many topics.
The panel: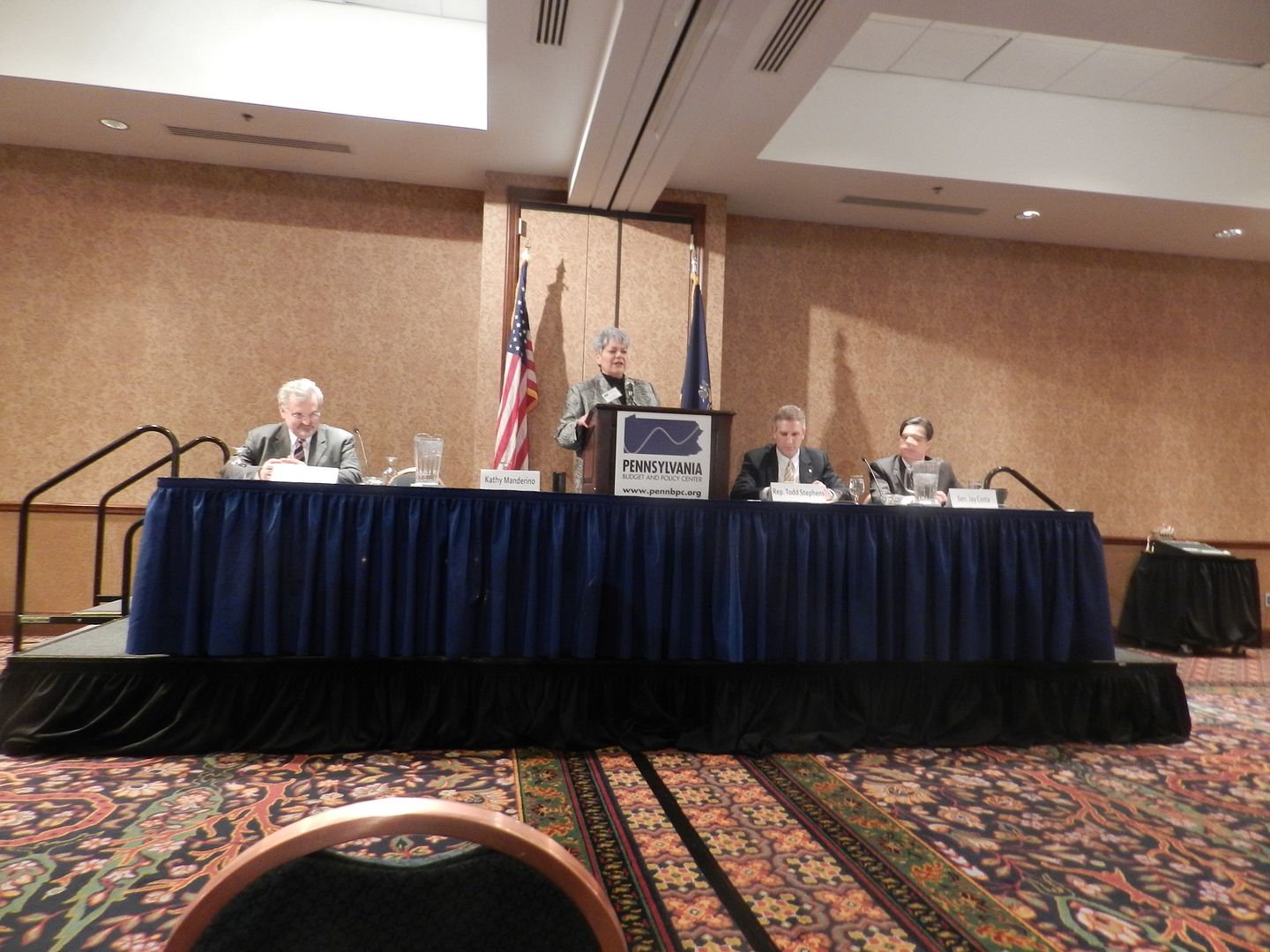 Gov. Corbett is fond of going around bragging he hasn't raised taxes. The fact he has. Local taxes are skyrocketing due to state budget cuts. Check your county and school property taxes if you aren't sure. This is called passing the buck: Corbett cuts school funding and human services programs then your local government bodies have to raise taxes to cover those shortfalls. A Dauphin County Commissioner lamented that since the Sandusky scandal pressures are on local Children and Youth Services to increase oversight on child molesters but aren't being adequately funded to do so. These are called unfunded mandates: the state requires they do more but doesn't pay for it.
The Governor's first two years have seen cuts in corporate and business taxes in return for job creation. Unfortunately we aren't getting the jobs he promised. Pennsylvania is now below the national average in job creation since he took office but tax revenues have dropped because of those cuts. He has reneged on his promises that these tax reductions would bring new jobs.
Rep. Mike Fleck:


Corbett is also going around claiming he didn't cut K12 education by a billion dollars. His argument is that those were federal stimulus funds that expired. That's true but then conservatives shouldn't be claiming the federal stimulus program was a failure. Interestingly they also paid for prisons but the budget for incarcerating people wasn't cut only the schools were. That tells us what his priorities are.
This year's budget is $28.4 billion up from $27.8 last year. Senate Republicans restored $500 million to last year's budget and this one will emerge much different from what the Governor proposed. He has built his proposal around three major initiatives which won't be passed by June 30th and if they do eventually, will see lengthy court challenges. Building a budget around them is political folly which will severely harm Corbett's re-election campaign next year. He can't blame the legislature too much for not getting his way since it is controlled by his own Party. The hallmark of this failed Administration is the Governor's inability to work with others. He has regularly tried to bypass the state legislature which has come back to bite him in the butt. The Governor is treating the House and Senate as if they don't matter and has turned his own Party leadership against him. This tone deafness is going to be his downfall.
Click below for the remainder of my coverage:
One of the hard hitting statistics we saw was the difference is cuts to urban and poor school districts compared with wealthier suburban schools. While the average cut statewide was $410/student some districts saw cuts as high as $1200. Guess what? They were mostly minority schools already suffering from vast inequalities of funding.
The three uncertain sources of funding in Corbett's budget surround lottery privatization, gutting of public employee pensions and the privatization of the state liquor stores. None is good policy and none is going to happen. This means Corbett's budget is DOA.
The lottery privatization is already on life support after Attorney General Kathleen Kane declared it unconstitutional. Again the Governor went around the state legislature to do what he wanted to do. This will be tied up in courts for some time provided Camelot Global Services doesn't tire of the politics and walks away. Corbett already returned its $50 million deposit.
Gutting public employee pensions also will not go through because it's bad policy. Pensions are deferred compensation and are contracts negotiated through collective bargaining. Neither the Governor nor the legislature can negate those contracts. The NCAA just sued Corbett for signing a bill requiring the Penn State settlement funds be spent only in the Commonwealth. It attempts to negate the contract agreement signed between PSU and the NCAA.
Converting fixed benefit pensions into 401(k) programs means employers (the state and school districts) get off free contributing to those retirement accounts, they are subject to the whims of the market, they'll require double the administrative costs and many public employees will leave their jobs when their pensions get robbed. It will then be more difficult hiring qualified workers and teachers for less than private sector wages when their benefits don't balance out those losses.
Privatizing the state Wine and Spirit Shoppes went nowhere in the last session and is DOA. Until Corbett comes up with a plan to replace the $500 million/year they contribute to state coffers he doesn't have a coherent plan. All that'll likely come out of this will be the ability for consumers to purchase six packs at grocery and convenience stores.
This means $625 million of the Governor's budget revenues don't exist.
Meanwhile the cuts on Corporate Net Income taxes (CNI) and the Capital Stock and Franchise Tax (CSFT) keep reducing revenues without creating new jobs. The corporate tax rate often quoted by conservatives is a sham because few businesses actually pay the 9.9% CNI. Loopholes and credits gut those rates. Until we begin closing things like the Delaware Loophole we won't really collect the revenues necessary to build an educated and trained workforce. That's reduce our competitiveness in the future.
There were two sessions of breakout workshops during the day. I spent some time in each of the morning ones and attended parts of two of them in the afternoon. The four morning sessions dealt with communications advice for budget advocates, educating children for the new economy, building a fair tax system and what Medicaid expansion means for Pennsylvania. Dr. David Brown of West Chester University had a startling fact about the popular Teach For America program: 80% of participants leave teaching within three years. To me this means Teach For America is a dismal failure. He also cited how much of a factor it is for teachers who get Master's degrees and the positive impacts they have in classrooms.
The Medicaid expansion panel: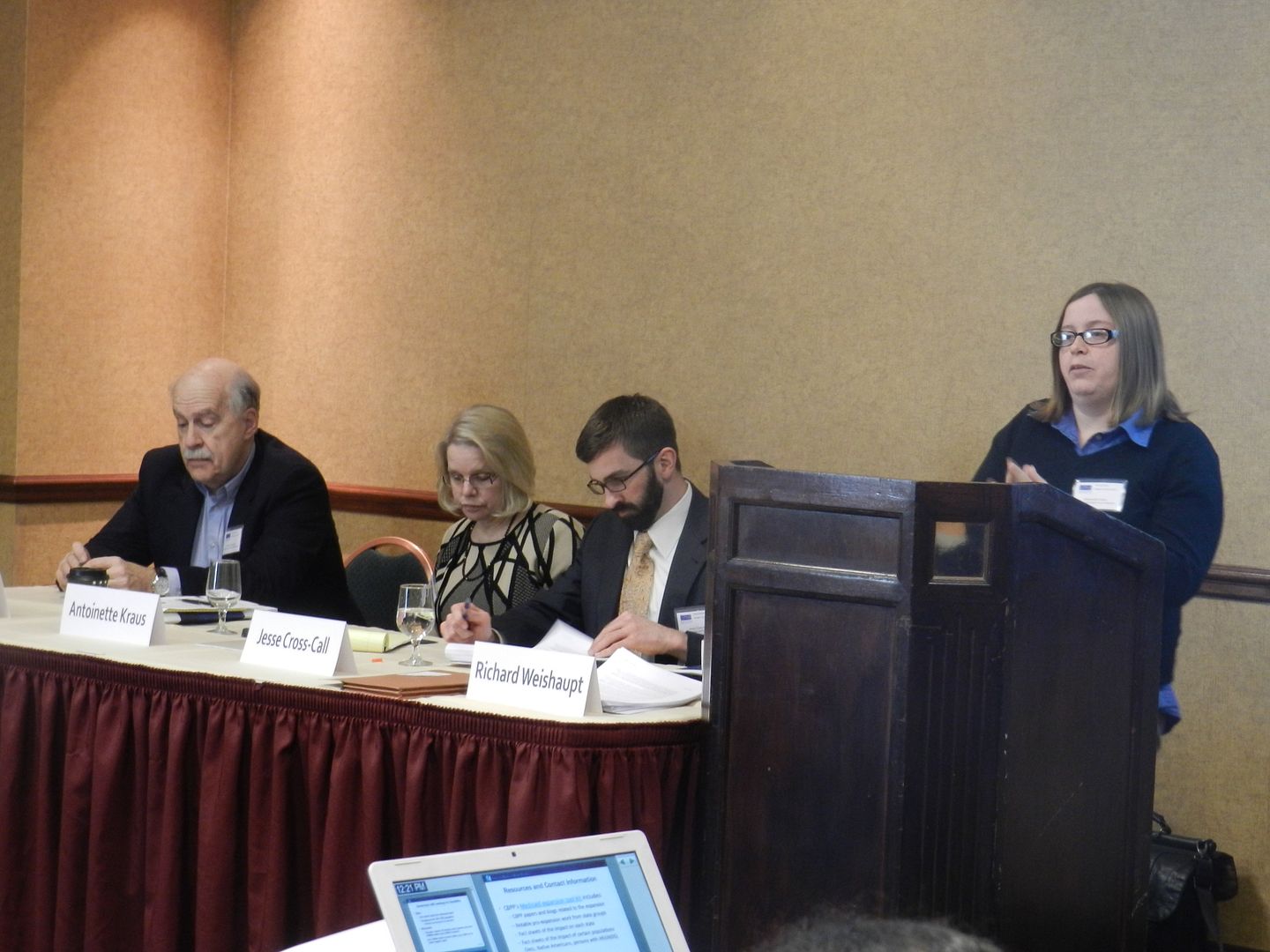 In the Medicaid breakout Antoinette Kraus of the Pennsylvania Health Access Network pointed out that with Medicaid expansion many low wage workers who would be enrolled in the plan would save their small employers ACA penalties. In other words if you have a small business and your workers can be covered by Medicaid expansion you'll be legal under the ACA and won't pay any penalties. This covers businesses with at least 50 workers.
The fair tax system panel: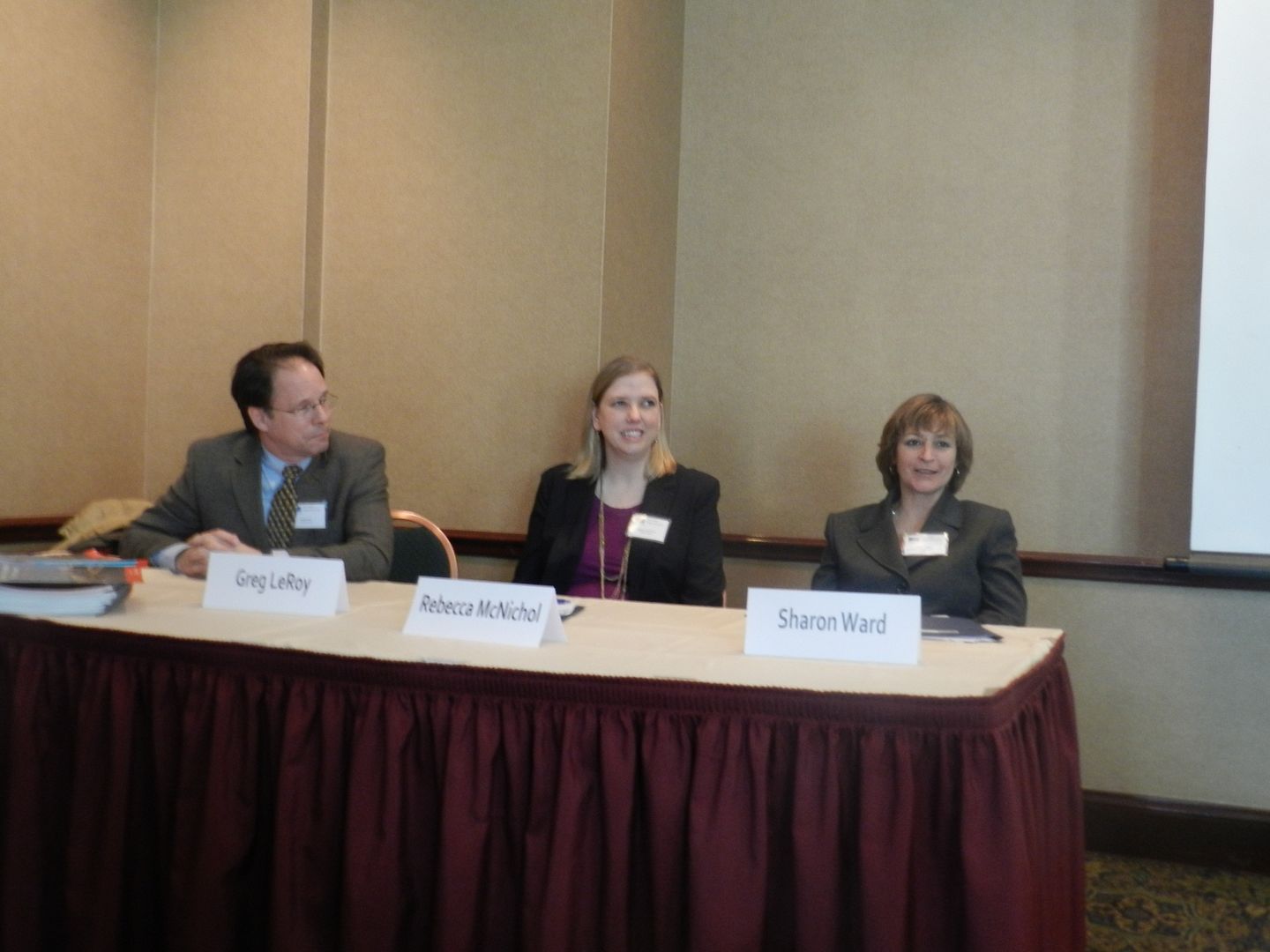 Did you know that only 8% of the Department of Public Welfare's budget goes to actual welfare benefits? Especially since Corbett cut TANF by 77%. But the agency really is more of a Health and Human Services Agency. Not all of the lottery profits go to senior citizen programs either although that is mandated by law.
The pension reform panel: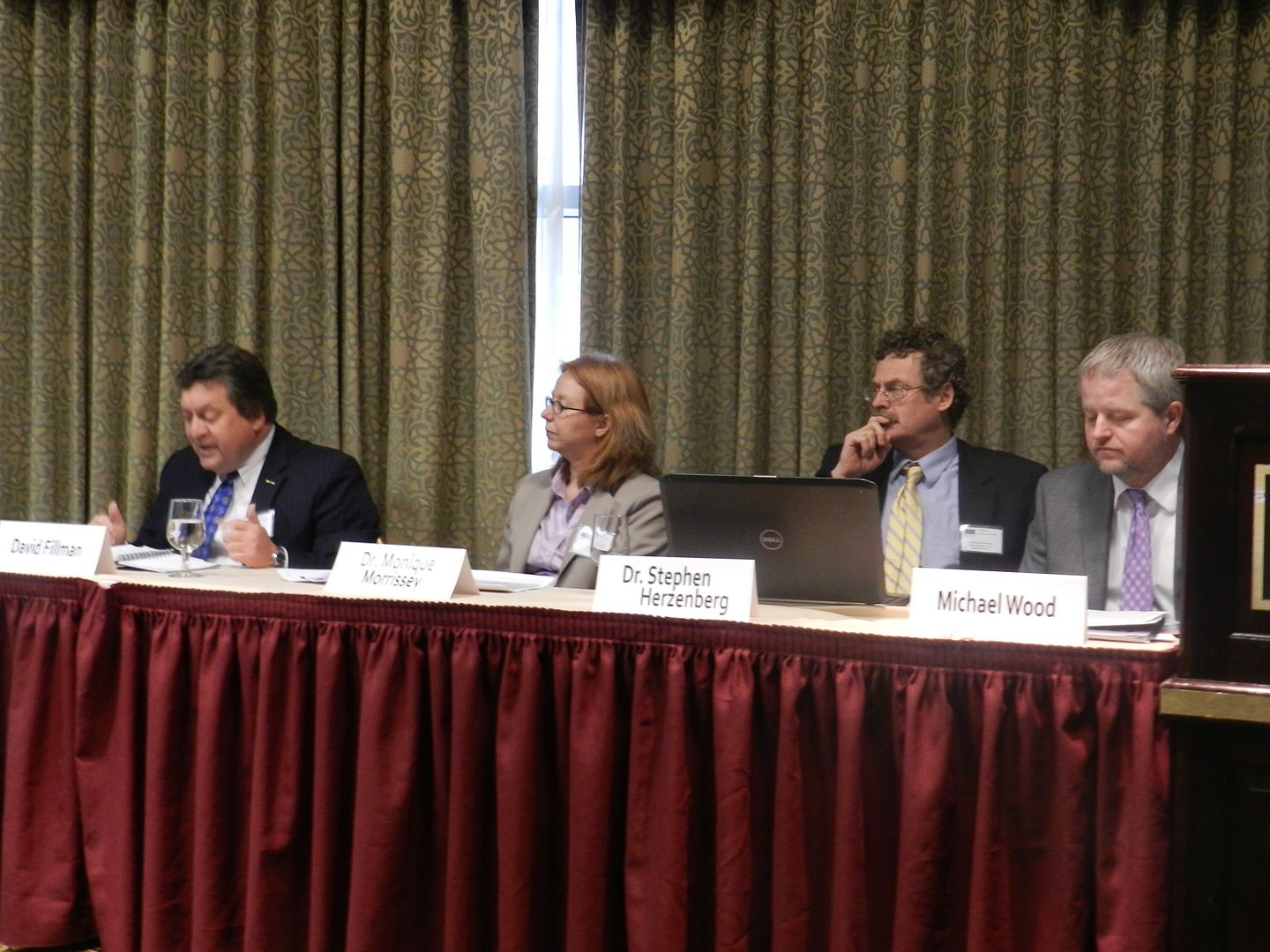 The four afternoon workshops covered the tax shift to local municipalities, pensions, human services and communications advice for talking about values. I got stuck in the pension workshop because it is so important and the discussion was so good.
I learn a great deal at this summit every year and it helps me in my coverage of state government all year round. The PBPC also posts regularly here on these issues.
Kathy Manderino: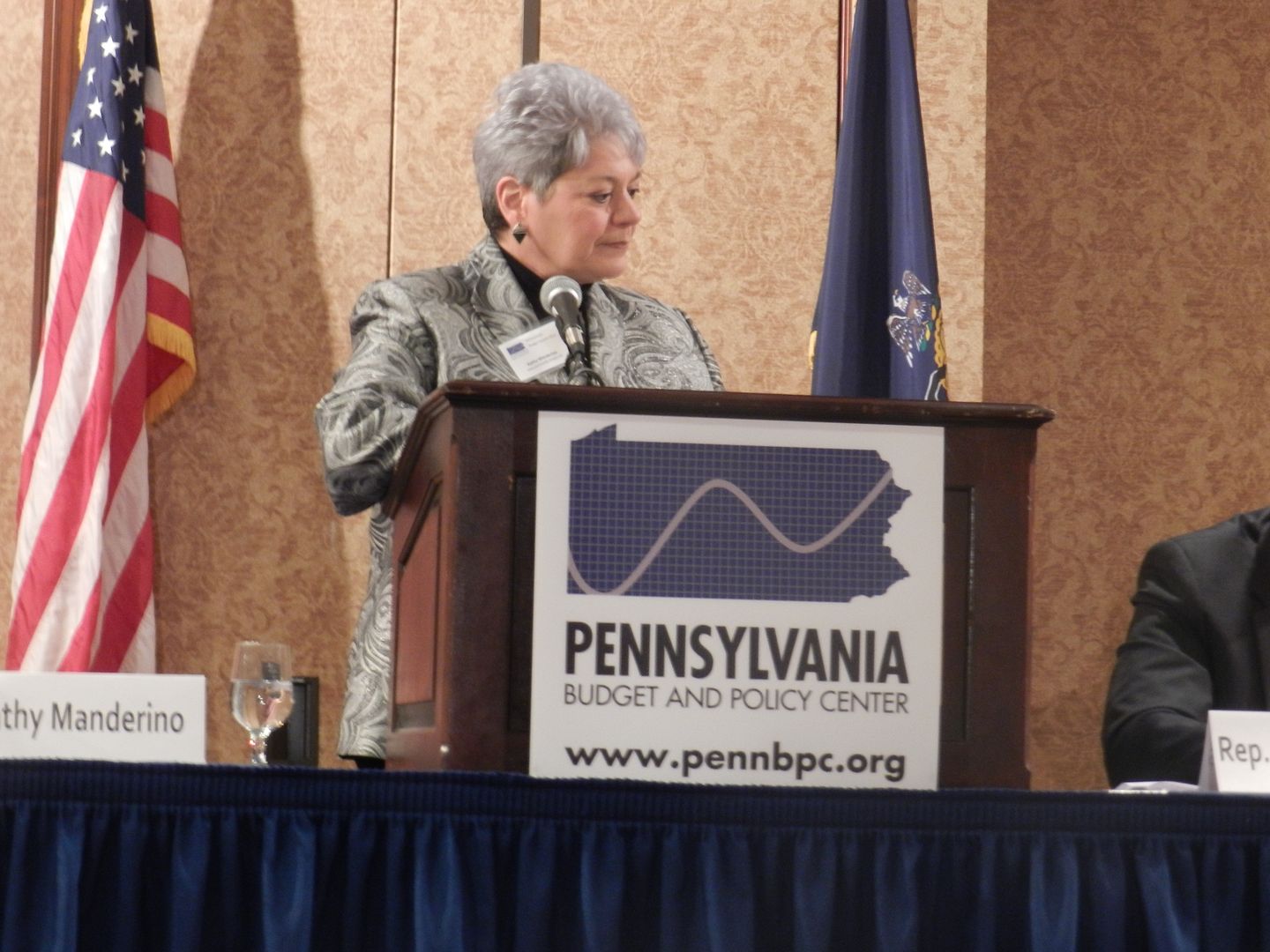 Manderino and Rep. Todd Stephens: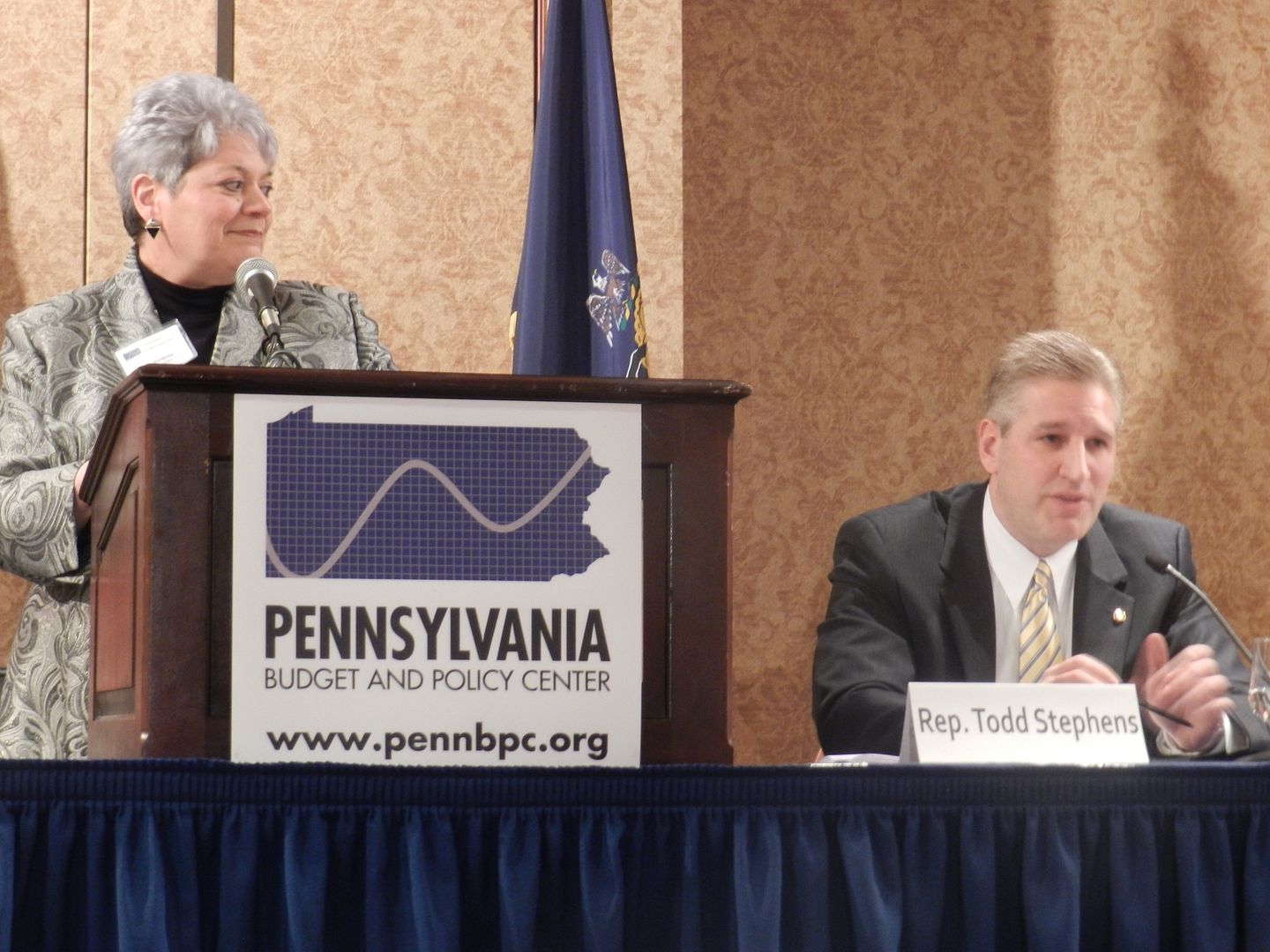 Rep. Mike Sturla: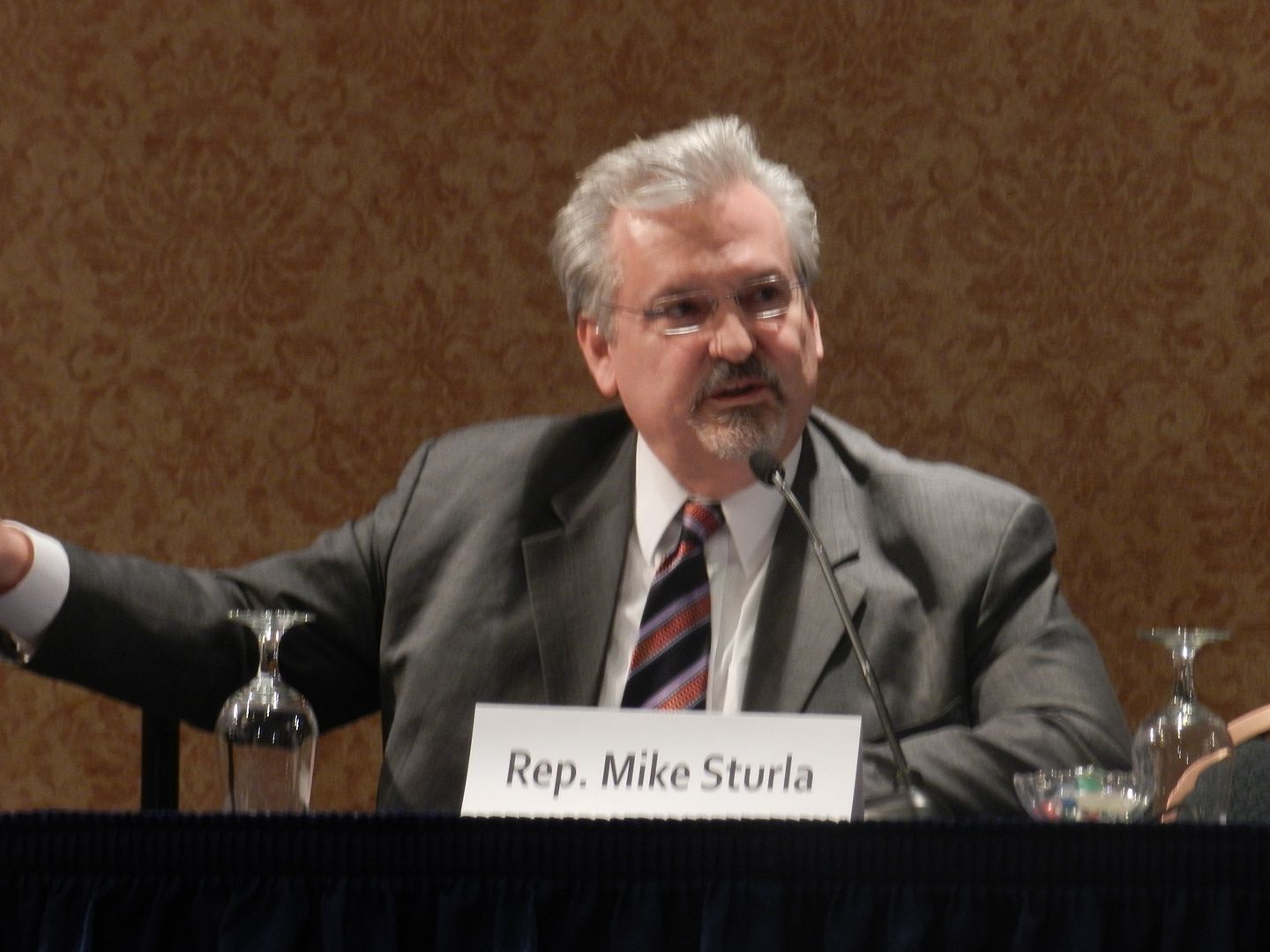 Sen. Jay Costa: