Happy Leap Day! My Mom and my Aunt were leap year twins and would have been 23 today.
Judge Jimmie Moore withdrew from the Congressional primary in PA-1 this morning. I'm not sure why you'd step down from the bench to run then not stick it out.
Pennsylvania exports increased to $41 billion (from $34.9B) last year, a 17% increase. Figures are from the International Trade Administration.
Thirty seven states have applied for waivers from NCLB but Pennsylvania remains a hold out. The Bush era law requires public schools teach students a test rather than teach them to learn and think.
Rick Santorum claims his grades at Penn State were affected because of his political views. I simply cannot imagine that professors would give him lesser grades because they didn't like him. Speaking on Charlie Langston's Michigan radio show he said this:

"I'm very careful about the colleges and universities our children go to," Santorum said. "There are schools, I went to one – Penn State – that's one of the liberal icons, unfortunately it's gotten a lot worse. I can tell you professor after professor who docked my grades because of the viewpoints I expressed and the papers that I wrote, there's no question that happened."
Rick and Mitt shared Michigan's delegates last night while Romney won Arizona handily. 15% of Republicans in the border state are Mormons.
Maine's Olympia Snowe announced she will retire from the Senate. There are fewer and fewer moderate lawmakers left in Washington, not a good thing.
For the second consecutive year Gov. Corbett's budget severely impacts services for the disabled. A budget is the Governor's list of priorities so what does Gasbag have against the handicapped?
PAHouseDems say Corbett has security at each elevator in the Capitol to keep disabled citizens away from his office during their protest today. Nothing says democracy like a host of guards posted against a few dozen mentally and physically disabled people. They provided this photo: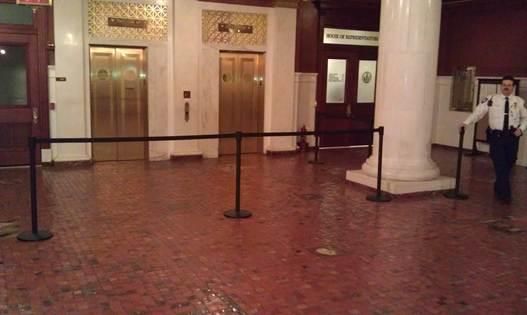 I love listening to Democracy Now! with Amy Goodman when I'm in Santa Fe and wish it were broadcast locally. This is a segment about WikiLeaks' expose of Stratfor, a shadow CIA which says Julian Assange has been secretly indicted. He has not committed any crime in this country.
Rep. Bill DeWeese will remain on the ballot despite being convicted of felonies. Under law he doesn't have to resign until his sentencing which is also April 24th. He's trashing what remains of his reputation with his stubbornness.