Republicans have turned their sights on Medicare now that their latest attacks on Social Security have failed. They see the senior citizen health care program as more vulnerable because of the accelerating costs of health care continue to drive federal deficits. Of course most of the current deficit was caused by the Bush tax cuts, two wars which we financed and the collapse of the global economy due to failed GOP economic policies.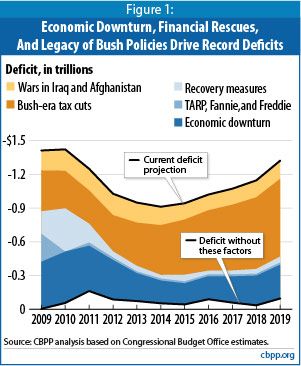 Regardless rising health care costs are a reality absent a serious effort (such as a national single payer system) to rein in costs. As more and more people drop out of the system the pool continues decreasing driving up costs for the remainder. The smaller the pool the more each member must shoulder since the 59 million uninsured eventually get covered, somewhat, by the pool. Senior citizens receive Medicare which is an 80/20 program supplemented by many with additional private coverage. Medicare Part D covers many prescription costs. The cost of prescription medications is one of the worst drivers of health care costs: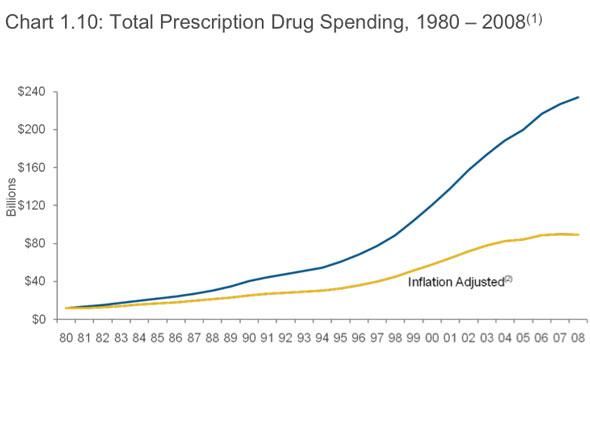 Rising medicine costs aren't the only problem however. Here is a graph showing healthcare costs as a percentage of gross domestic product: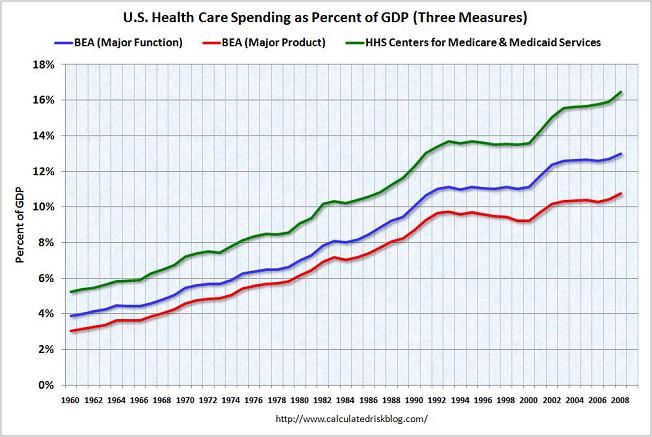 Our current system is broken but Medicare is part of the solution. Buraeucratic overhead in private industry costs between 25-30% depending on your information source. Medicare has a 3% overhead. This means far more of our healthcare dollars actually go towards health care versus private health insurers. Ending Medicare and replacing it with a voucher system where seniors go into that private market will only increase overall costs.
The proposed voucher in the Ryan plan allow up to $6000/year. People would be responsible for costs above that amount. Medicare beneficiaries currently pay approximately $100/month for Part B coverage which comes to about $1200/year. Combining those figures we have $7200/year available to cover medical insurance. That is assuming each individual, couple or family can get coverage. With restrictions on abuses eliminated as part of the Path to Prosperity those with pre-existing conditions could be denied coverage and those facing catastrophic illness or injuries might be denied care as happens now. There is nothing in the Ryan proposal protecting patients.
So where will people get the money to pay for future costs? That $7200/year will buy less and less coverage every year. As healthcare and prescription costs continue escalating more and more will be forced out of the pool creating an even worse problem than we currently face. The way it is now with Medicare at least our senior citizens and those who are totally, permanently disabled, including veterans, will be pushed into the ranks of the uninsured. According to federal data hospital spending increased 5.1% in 2009. Physician and clinical services went up by 4% and other professional services (physical therapy, chiropractors, mental health, etc) increased by 5.3%.Health, residential and personal care services went up 8.3%, dental 1%, home health care 10%, nursing care facilities 3.1%, prescription drugs 5.3% and durable medical equipment actually went down by 0.8%. Consider that this was a good year with decreases from 2008.
Using an average annual cost increase of 8% which will be compounded each year how will the Ryan voucher of $6000 solve any of our problems? It will not. It will only exacerbate them by driving seniors out of the health care market and into early graves. This is rationing, it is forcing people to make life and death decisions about balancing food, clothing, shelter, heat and other essentials against health care premiums and drugs. We may as well be pushing our elderly off a cliff:
Using the current 8% figure if we project it out five years the cost of that privatized RyanCare will be $ 17,631/year. Seniors will be left paying $10,431 of it out of pocket. The average Social Security payment is around $1,000/month. With no other income (and many senior citizens live only on Social Security) (I'll add cola cost increases of $100/month for the five year period) they'd have around $3,000/YEAR for all other expenses.
This isn't a solution it is a death sentence for our senior citizens.